Pour innover, le rétro c'est tellement tendance. Voici une piste de boite à outil pour créer un mini jeu engagé militant féministe. Oui on s'attaque là à un secteur de marché bien hostile pour le fun. On build ça avec une PICO-8, une console fantaisie qui donne vraiment envie de coder. Episode I, vous êtes un vaisseau Alpha dans un space shooter !9
Episode I – Space shooter alpha
La toute première version du jeu visait à promouvoir des figures historiques dans le monde de l'informatique. Comme le choix de l'univers de jeu est l'espace, les icônes retenues sont Margaret Hamilton, Katie Bouman et Ada Lovelace. J'ai codé la première version du jeu en dilettante sur quelques semaines puis j'ai proposé en cas pratique ce sujet au sein de mon agence Meritis pour aussi les initier à la méthodologie de sprint design. La version courante est présentée à la conférence NewCrafts. Testez le jeu !
Go play version current and have fun 🙂
Changelog alpha version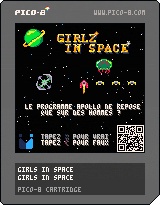 Mémo notes pour coder rapidement. Le langage de base assez accessible LUA.
:: Hello World / basique fonction
function update_menu() 


 

cls() 


 

if (btn(4) and btn(5)) 


 

then _update = update_game 


 

_draw = draw_game 


 

end


 

end
:: Hello World / sprite and maths fonctions
spr(monster.s,monster.x,monster.y,2,2)
CIRCFILL(70,90,20,14)
BTN [i [p]]
:: File System
EXPORT mygame.html --

Exporting a web player


FOLDER open the current directory in the host operating system's file browser
Episode II – Space shooter bêta
Vos retours d'expériences
Go play
Les jeux engagés ne sont pas légions dans le monde du gaming. Stéphane Natkin en décrit une perspective sur le blog du CNAM. Heureusement, le réseau s'étend avec de belles initiatives comme celle d'Alice et Hélène qui m'ont inpirée avec leur jeu anti-sexisme Dykie street. Cette article du Huffingtonpost revient sur leur démarche militante. Parlons-en !
Références sources
Read The Fucking Manual www.lexaloffle.com